Whole Foods Market is unlike other main stream grocery store as it truly focuses on the dietary concerns and limitations that many are afflicted with.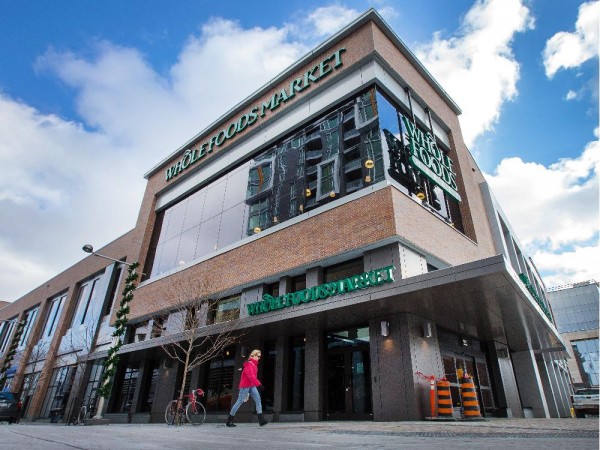 Aside from the extensive varieties of food selection that Whole Foods offers its customers, its niche is catering to customers and their food selection and preferred buying habits:
Gluten-free products
Gluten & Casein-free products
Non-GMO Project verified products
Organic personal care products
Premium body care products
Whole Foods Market also prides itself with their mission and core values that many consumers adhere to:
Community Giving
Local Producer Loan Program
Whole Trade Program
Environmental Stewardship
Organic Farming
Animal Welfare
Seafood Sustainability
Convenient for many customers is the option of Whole Foods Online Ordering which is also available at the Lansdowne location. It's a simple process of ordering your ingredients, meals and/or products online and then pick them up at the store.
Whole Foods Prepared Foods
"If you haven't sat down to a meal in one of our stores lately, you're in for treat." If you have, then you know what we're talking about. Depending on the size and location of the store, our Prepared Foods departments can include a deli, an ethnic restaurant, burger joint, neighborhood diner, Parisian café, pizza joint, BBQ shack, sushi or seafood bar, raw foods bar, taco bar, salad bar, sandwich bar, olive bar and wine bar.
If variety alone doesn't make you take out your napkin and tuck in, here's the clincher: all of the ingredients are natural or organic and as many as possible are locally grown. That means no artificial flavors, colors, sweeteners, preservatives or heart-clogging trans fats. It means the food is pure, fresh, flavorful, and just plain wonderful, produced by farmers who care about quality and their environment.
All of the prepared foods are created by trained Team Members under the supervision of an experienced chef, or two, or three, depending on how big the store is and how many dining areas it has.
Whole Foods Ottawa Address, Parking and Hours
951 Bank Street
Phone: (613) 565-7150
Café Hours:  Open Daily at 7am
Store Hours:  Monday – Saturday:  8am – 10pm
Sunday:  9am – 9pm
Parking
On-site parking is available below the store. They offer validated parking to their customers with 90 minutes of FREE parking with a minimum purchase from the store of $25. You can access the parking garage via Bank Street or Queen Elizabeth Drive and be sure to follow the signs to ensure you are parking within the Whole Foods Market designated parking area in order to receive validation.