The website sportslogos.net posted what looks like the potential logos for the Ottawa RedBlacks CFL team, with a French version — Rouge et Noir d'Ottawa. This certainly is one step closer to reality for those unhappy with the Ottawa RedBlacks name.
Greyscale RedBlacks and Rouge et Noir d'Ottawa logos were filed with the Canadian Intellectual Property Office on May 21 and emerged on sportslogos.net early Thursday.  Images on the website revealed a bold "R" in front of a circular saw with the name RedBlacks underneath. The emphasis on the letter "R" is similar to the team's previous CFL logo when they were known as the Ottawa Rough Riders.
The new Ottawa CFL team set to begin play in next year's 2014 season. The Ottawa Sports and Entertainment Group (OSEG) will officially launch the name and the logo at a huge celebration June 8, 2 p.m., at the Ernst and Young Centre.  OSEG, did not confirm the RedBlacks logo or name, but rather simply reiterated that June 8 will be the big day. The other names they had been considering were Nationals, RedBlacks, Rush, Voyageurs, and Raftsmen.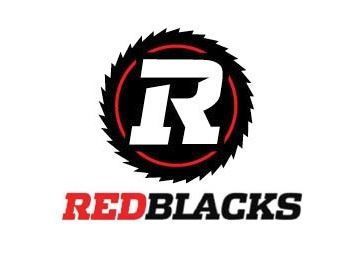 Ottawa's CFL team is slated to begin playing next year at Lansdowne Park Frank Clair Stadium next year 2014 season.
The team also announced Thursday that Brock Sunderland has been appointed assistant general manager. Sunderland spent six seasons with the NFL's New York Jets in scouting roles, most recently covering college players in the western United States.
Interested in Purchasing Tickets for the upcoming 2014 Ottawa CFL Season?
Fans are able to purchase their Priority Registration Number (PRNs) by visiting Capital Tickets. You can secure your priority registration number (PRN) for season tickets with a $25 per seat deposit  or by calling 613-599-3267.