Every Sunday from

9:00 am – 4:00 pm –

 May 1 to

October 30

 in the Aberdeen Square, Lansdowne Park
Here is the latest update from the Ottawa Farmers' market summer hours season and all the upcoming events!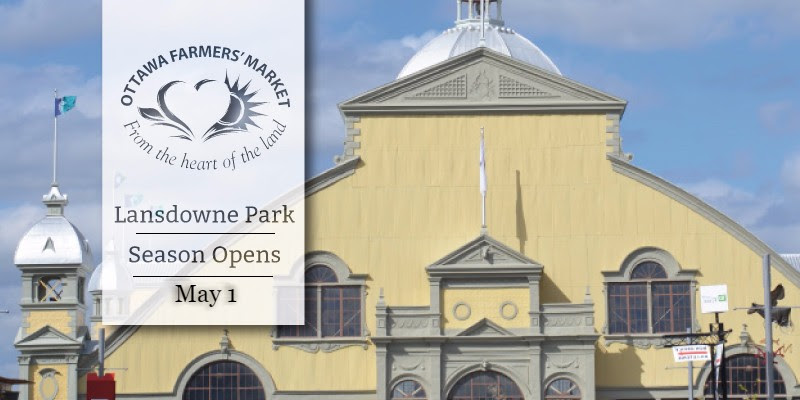 Vendors you can expect to see this Sunday at Lansdowne Park
5 Cupcakes
Acorn Creek Garden Farm
All about the Soup
Arabeque Pottery
Art-Is-In Bakery
Bearbrook Game Meats
Beking's Poultry Farm
La Bergerie des Sables
Bergeron Gardens
Blue Shoes Honey
Buzzz Honey Products
By Chadsey's Cairns Winery 
Canreg Station Farm 
Castor River Farm
Chamomile Desjardins
Completely Nuts!
DiversiTea
Elk Ranch
Four Sisters
Garland Sugar Shack
Gongfu Street Food
Gordz Hot Sauce
Guy Bergeron Gardening
Hali's Essentials
Hall's Apple Market
Hummingbird Chocolate Maker's
Ingleside Tomatoes
Island Spiced
Joseph Henri
Joshua Tree Jewellery
Just Farms
Kiefro Wild Boar Farm
Kiwan Farms
Kiwi Gardens
Kulture Foods
Linda's Garden
Log House Farm & Cottage
Luxy Farm
Needham's Market Garden
Pascale's All Natural Ice Cream
Petit Brule
Pheobe's Ferments
Pinn-to-Thai
Poppa Bean Coffee Company
Pretty Fours
Purebread
Raon Kitchen
Roadapple Ranch
Rochon Gardens
Roots and Shoots Farm
Savoury Pursuits
Simply Fruit Rice Puddings
Strut Jewellery
The Great British Pasty & Pie Co.
The Hot Potato Company
The Salty Don
Trillium Meadows Farm
Upper Canada Heritage Farm
Waratah Downs Organic Farm
Warner's Farm
Wildtree Jewellery
Woodline Creations
Wood & Stuff
Worke's Kitchen
Yummy Cookies
We're back at it again, and this time, it's our 10th birthday!
While spring may be dragging its heels, the Ottawa Farmers' Market certainly is not! And by our calendar, 2016 is going to be a very good year!
We've got a great season of events coming up, and we've partnered with some of the best chefs in the city to bring together fun and funky recipes that highlight seasonal offerings at the market. We also have over 20 new vendors joining us this year at both the Lansdowne and Westboro markets. And, if all of this isn't exciting enough, this year we are celebrating our 10th anniversary of being the leader in bringing the best in local food to the nation's capital!
The Aberdeen Pavilion served us well this winter, sheltering our Sunday markets from many a cold day, but now it's time for us to move outside to Aberdeen Square. Join us as we soak up the sun and celebrate what we do best – grow local food, prepare tasty dishes, and craft fine artisan products!
Lansdowne Market 
Aberdeen Square, Lansdowne Park
Sundays, 9:00 am – 4:00 pm
May 1st – October 30th
Source: Ottawa Farmers' Market Newsletter