Despite a really cold morning, more than 200 eager customers were lined up by the time the new Whole Foods store opened at Lansdowne at 9 a.m. Wednesday. The first 500 customers were also given gift cards, for $5 to $500.
The grocery retailer specializes in organic and natural foods and body care products that are "free of artificial preservatives, colors, flavors, sweeteners, and hydrogenated fats."
Whole Foods Stores in Canada
Whole Foods has a long list of ingredients it deems unacceptable and a set of quality standards that appeal to a growing demographic of health-conscious consumers.
While Whole Foods has its own on-site bakery, which uses organic flour, it will also carry breads from such Ottawa bakeries as Nat's Bread Company, Pete's Gluten Free and True Loaf.
The Ottawa Whole Foods store is the 10th in Canada, with five in the Toronto area and four in Vancouver.
At 39,000 square feet, the Ottawa store is slightly smaller than ones in Toronto's Yorkville area (which is underground) and at Mississauga's Square One.
In addition to selling groceries and body-care products, the new store also has café upstairs and down, a big prepared foods department with entrés from $10 to $17, and a large open kitchen, staffed by such Ottawa chefs as Brent Pattee, formerly of Fitzgerald's in Almonte, and Jason Brault, formerly of Erling's Variety.
The Lansdowne store is carrying more than 50 foods from Ontario and west Quebec producers – everything from cheese to chocolate with products from La Fromagerie les Folies Bergé¨res and La Trappe é Fromage as well as from Hummingbird and Rochef.
Whole Foods was founded in Austin, Texas, in 1980 and there are now more than 400 stores in North America and the United Kingdom. It was the first national certified organic grocer in the United States.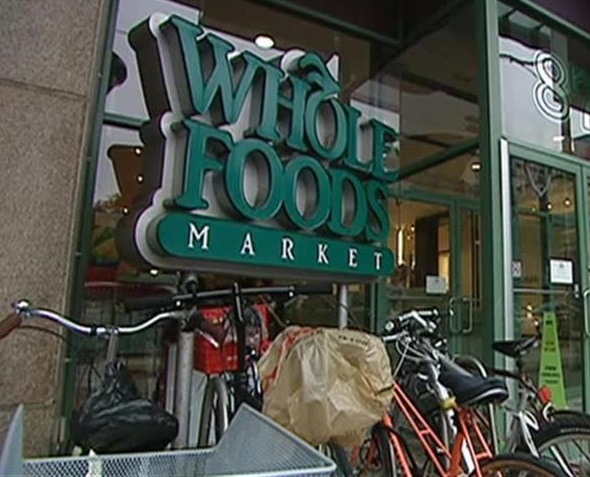 Whole Foods effect = A rise in property values in the Glebe
Whole Foods is widely considered to be a destination store. It offers a shopping experience customers are willing to walk or drive to, if necessary. The company stock has done very well over the past several years.
Even so, the grocery chain's executives have joked that they could make money simply by buying surrounding real estate before Whole Foods arrives in a neighbourhood, rather than by selling groceries.
Company co-chief executive John Mackey has also repeatedly stated that Whole Foods is highly selective in choosing specific business locations, including taking account of the number of university-educated residents as an indicator of affluence. The chain has a reputation for moving into urban areas at just the right time for economic development, having in the past displayed an almost uncanny ability to predict economic growth.
The phenomenon associated with Whole Foods openings – labelled the "Whole Foods effect" – indicates an observed rise in nearby commercial and residential property values of up to 20 per cent. The company's high standards and quality products attract affluent customers, and the increased traffic in turn sends a signal that often lures other high-end stores and restaurants into the area, making it more popular overall.