The Ottawa Sports and Entertainment Group (OSEG) today announced comprehensive details for event goers to travel to and from TD Place at Lansdowne. The transportation plans were developed in collaboration with the City of Ottawa, OC Transpo, la Société de transport de l'Outaouais (STO) and SP + GAMEDAY, an internationally acclaimed event transportation management and logistics firm.
For major events (15,000+ attendees, examples such as REDBLACKS games, Fury FC home opener) the following options are available for ticketholders:
A.     Park & Shuttle
Your event ticket gets you FREE parking and FREE shuttle service directly to TD Place. Park & Shuttle Service begins two hours before the start of the Game. All Park & Shuttle lots provide accessible shuttle service to TD Place.
For events with attendance less than 15,000 people the TD Place shuttle lots will not be in operation.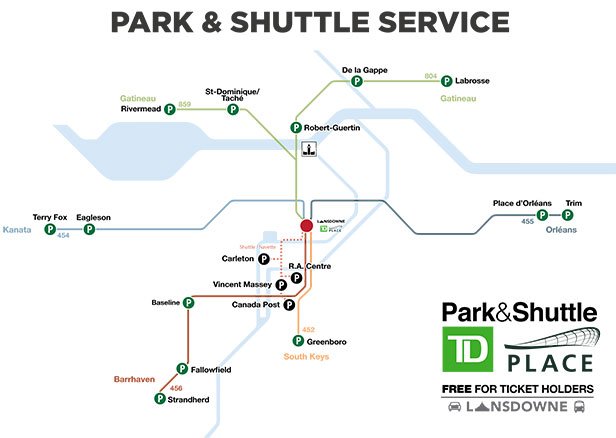 Park & Shuttle service is available at the following lots: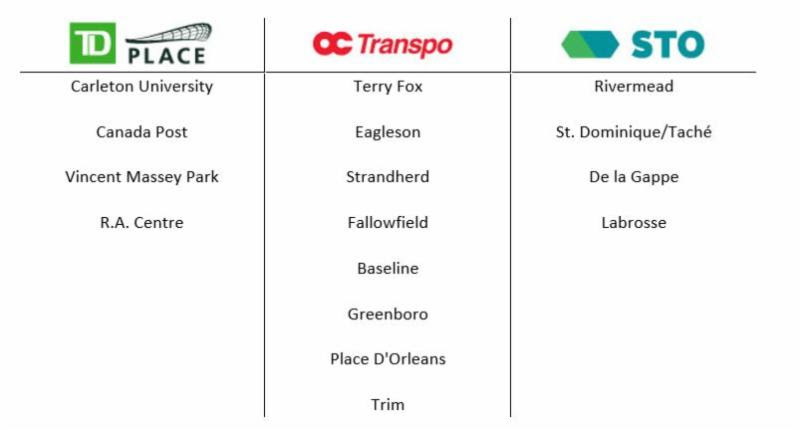 For more information on Park & Shuttle service provided at OC Transpo and STO Park & Ride lots, visit:
B.     Take Transit
Your event ticket gets you FREE transit service starting three hours before the event, during the game, and for three hours post event on all OC Transpo and STO routes.
OC Transpo service on Bank Street will be enhanced during game days for an easy connection from downtown. In addition, special OC Transpo and STO routes will be in place providing direct service to TD Place from across Ottawa and Gatineau. 
C.  Bike & Park
FREE, secure bike on-site parking is provided on game days near the Aberdeen Pavilion
Fans are encouraged to ride their bikes to get to the game using the scenic multi-use pathways along the Rideau Canal, a UNESCO World Heritage Site.
Please note that these options are for events with attendance over 15,000 people.
D.   Parking
On-site parking will be available for purchase on Game Day by General Admission ticket holders.
General Admission ticket holders are encouraged to Park & Shuttle for free at one of the many TD Place Park & Shuttle lots. It's direct, convenient, and will make for a stress-free game day experience.
On-site parking is only available for pre-purchased Club and Suite tickets. For more information, please contact us at executive-club@tdplace.ca or 613-599-FANS (3267) or 1-877-788-FANS (3267). Club and Suite ticket holders are encouraged to access the on-site underground parking facility via the access off of Queen Elizabeth Driveway.