Tryouts will be held in early March for experienced stunt cheerleaders, gymnasts and dancers 18 years of age and older.  The cheer team and the dance teams will be separate entities working together to entertain fans at TD Place and in the community.
A REDBLACKS cheer and dance team information session will be held on Tuesday, March 4at 7 p.m. at the Marriott Residence Inn, 161 Laurier Avenue West.  Prospective team members are invited to attend and discuss requirements and expectations for practice and performance.
Prior to the actual auditions for the teams, prep-clinics will be held to enable prospective cheer and dance team members to get a sense of the skill and conditioning levels that will be required.  The clinics will be held at the Marriott Residence Inn on Thursday, March 6 from 6 to 8:00 p.m. for dance and 8 to 10 p.m. for cheer.  Registration fee is $15.
Auditions are scheduled for Saturday, March 8 and Sunday, March 9 a.m. to noon for dance and 2 to 5 p.m. for cheer.  All sessions and auditions will take place at Marriott Residence Inn on Laurier Avenue.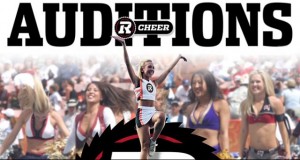 The Ottawa REDBLACKS Cheerleading and Dance program will select up to 25 cheerleaders and 25 dancers to perform at all home games and take part in community events, promotions and charity events.
The Cheerleading and Dance program will be led by Orleans native Lisa Aucoin and her husband, Kenny Feeley.  Kenny was a national champion cheerleader at the University of Louisville and Gym Tyme All-Stars in Kentucky. He is a coach of the Canadian co-ed elite team, five-time world champions.
Lisa began her cheerleading career with the Orleans Bengals. She cheered at the University of Ottawa and was the inaugural director of the Ottawa 67's Ice Girls.  She went on to become the International Regional Director for Cheerleading in Canada and is a judge at the ICU Cheerleading World Championships. Together, they own Spring:  Cheer, Dance &; Tumbling, the largest international instructional cheerleading company in the world.
For more information about the Cheerleading &; Dance Programs or their upcoming auditions, please visit www.ottawaredblacks.com.
Image source: Ottawa REDBLACKS website