Delroy Clarke, a non-import defensive back who played collegiate football with the University of Ottawa Gee-Gees, is the latest player to sign with the Ottawa REDBLACKS of the Canadian Football League.
The 6-foot, 190-pound, 31-year-old native of Kingston, Jamaica was a fourth-round selection (29th overall) by the Toronto Argonauts in the 2008 Canadian College draft. Clarke spent three seasons with the Argos before joining the Eskimos in a March 2011 trade that sent a fourth-round pick in the 2012 Canadian College draft to Toronto.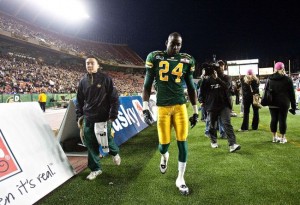 Clarke, who did not play in 2013, has recorded 45 tackles on special teams during five CFL seasons.
He spent three years with the Gee-Gees, with 34 defensive tackles and two interceptions in 16 games.
The REDBLACKS have signed two players who attended the University of Ottawa: Clarke and wide receiver Simon Le Marquand of Gatineau.
Source:  RedBlacks.com