The contractor has reached the top of the office tower on Bank Street,  and next week there will be activity on the top floor in preparation for pouring the roof slab.
There will also likely be a major concrete pour for the residential building on Bank Street, near the Bank Street Bridge.
In the coming weeks residents may note some additional activity on the northern edge of the site, as the contractor cleans and prepares the area for the construction of the town homes that will front along Holmwood.
Stadium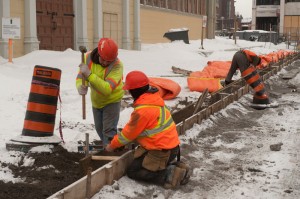 At the north stands, the contractor is pouring the concrete foundations for the new field-level seating.
Work continues to install the new roof over the arena.
At the south stands, brackets that will support the horizontal beams of the wooden structure that wraps around the stands, called 'the Veil', are now being installed.
Tiling in the washrooms in the future locker rooms in the basement level has started.
Building the suites and finishing concessions on the upper levels continues.
Exterior cladding is being installed on the media box at the top level of the stands.
Urban park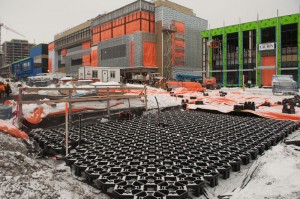 Work continues in the urban park though the extreme cold and large snowfall has been a challenge.
Aberdeen Square on the north side of the Aberdeen Pavilion is progressing. The contractor has started to form and pour the first concrete curbs along the perimeter of the square. They are also installing underground wiring as well as special cells to encourage healthy tree root growth in the square.
A large portion of the pavers in the court on the east side of the Aberdeen Pavilion have been laid.
The berm is being shaped and foundations for the art screen that will run along the top are being excavated.
Urban village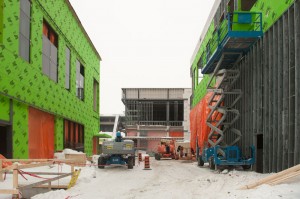 The contractors are working inside several of the buildings, installing drywall and other interior finishes.
On the outside of the buildings, waterproofing and the steel studs for the exterior cladding are being installed.