Mayor Jim Watson revealed this morning the second stage of light rail projects. This include 35 km of new track and 19 new stations.
The total cost of the plan is expected to be within $2.5 billion and be finished by 2023. The provincial and federal governments would have to match the city's contribution to fund the plans.
One of the key points, is that every resident of Orleans would live within five km of light rail with four new stations: St. Joseph, Jeanne D'Arc, Orleans Drive and Place d' Orleans.
Extended Transitway, O-Train stations planned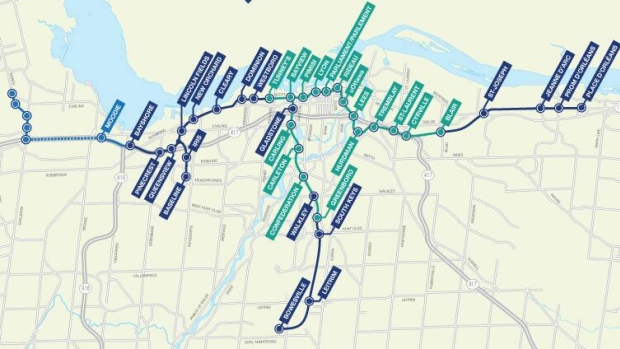 Here are other light rail and road plans for each area of the city:
East | Rail line extending new Confederation line, set to be finished in 2018, from Blair station to Place d'Orleans. That is in addition to road networks: Blackburn Hamlet Bypass extension and Brian Coburn Boulevard extension.
West | Rail line extending Confederation from Tunney's Pasture station west to Bayshore Shopping Centre and south to Baseline station. Also a new Transitway to Moodie Drive and a new "busway" along March Road to Terry Fox Drive, plus a new four-lane road on Campeau Drive and the widening of both Carp and Old Richmond/West Hunt Club roads along Campeau.
South | Expanded O-Train service with five additional rail stations at Gladstone, Walkley, South Keys, Leitrim and Bowesville, with intersection modifications along Prince of Wales, a widening of the Airport Parkway from Brookfield to Hunt Club, the widening of Strandherd Drive for the creation of a new business park and the Greenbank Road extension between Cambrian and Jockvale.
Other plans for Ottawa's transportation future include:
Construction of the Richmond Road underground corridor for western light rail.
Bridge from Donald Street in Vanier to Somerset Street East in Sandy Hill.
Prince of Wales bridge to Gatineau for cyclists and pedestrians.
Improvements to East-West Bikeway from Vanier to Westboro.
Construction of Nepean Trail and other local cycling routes to connect neighbourhoods from Greenboro to Fisher Heights and Billings Bridge.
More winter maintenance of downtown cycling pathways to encourage more seasonal cycling.
The city will hold four public information sessions on the transportation master plan between 4 p.m. and 8 p.m.: Oct. 15 at City Hall (downtown), Oct. 17 at the Kanata Recreation Centre, Oct. 22 at the Walter Baker Sports Centre (Barhaven) and Oct. 24 at the Bob MacQuarrie Recreation Complex (Orleans).
Debate on the master plan will take place on Oct. 16 and the draft plan will be considered at transportation committee on Nov. 15.
Source: CBC.ca