Empire Company Ltd., the owner of the Empire movie theatre being built at Lansdowne Park is getting out of the cinema business, leaving the future of the theatre site unclear. Empire's departure would leave another hole to fill at the Lansdowne site.
The company responsible for the project's retail components, Trinity Developments, has issued few details about its plans for a large part of the close to 400,000 square feet of retail space. The current list of Lansdowne Park potential tenants include two retail bank branches, a national pharmacy chain store, athletic retail, Grocery store and more . As of  June 28, 2013, Trinity Developments website showed the following list of potential tenants at Lansdowne Park:
Retail Shops:
Sporting Life
LCBO
Whole Foods
Movies
Empire Theaters (10 screens)
Restaurants:
Il Fornello
Joey
The existing theatres are being divided between Cineplex Inc. and Landmark Cinemas. Cineplex is paying $200 million cash for Empire's holdings in Atlantic Canada and Calgary-based Landmark is part of a more complicated buyout of Empire's cinemas in the West. They're splitting Empire's holdings in Ontario, with Cineplex picking up its theatre in Kanata and one in Whitby and Landmark getting the rest, including one in Orléans.
None of the companies' news releases Thursday specifically said anything about Empire's movie theatres at Ottawa's Exchange Centre or what will happen to the one under construction at Lansdowne.
The Ottawa Sports and Entertainment Group, which is operating the Lansdowne project, is still unsure of what Empire's decision means to the future of the project.
Empire has a lease with the Ottawa Sports and Entertainment Group, the consortium of developers redeveloping Lansdowne in partnership with the City of Ottawa, to operate a theatre there.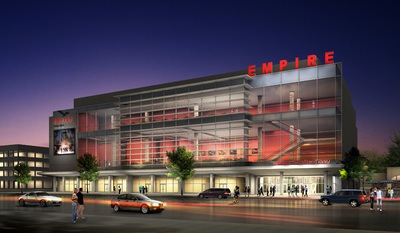 The 10-screen cinema at Lansdowne is supposed to offer a movie-going experience that's unique in Ottawa, with top-notch projectors and sound and extra-comfy chairs in some theatres, plus food and alcohol service. The structural steel frame of the building is the most advanced of the new construction at Lansdowne now, rising several storeys above ground close to Holmwood Avenue. It was supposed to open in early fall 2014.
Separate from the news that Landmark will take over Empire's cinema at 3752 Innes Rd. in Orléans, the east-end community is getting a new discount theatre, with Ciné-Starz opening a new theatre in the space formerly occupied by the Mayfair. The Bank Street movie house tried an eastern expansion but closed it in February after a year-long experiment when the landlord terminated the lease over unpaid back rent.