Flame Grilled Burgers + New York Fries + Local Beer = Hat Trick, Touchdown & Goal for Lansdowne Park
Lansdowne Park has its share of stores, restaurants and services but a new eatery is starting to make its mark in the Lansdowne community…South Street Burger. Lansdowne Park is South Street Burger's only Ottawa location, the growing franchise has numerous eateries in Toronto, Calgary and in Dubai.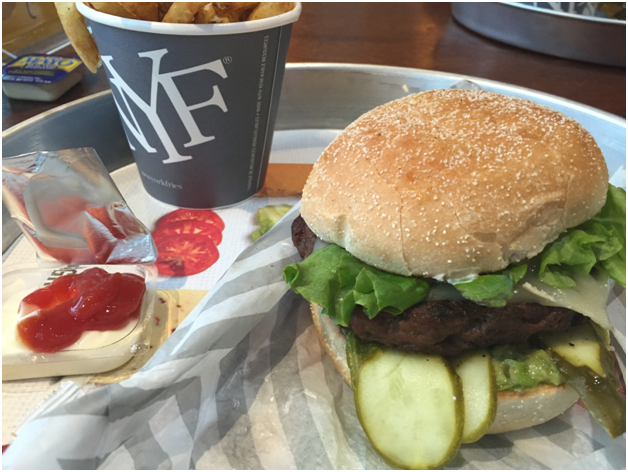 The owner of New York Fries decided several years ago to venture into the burger business and so the birth of South Street Burger materialized. The owner has dedicated his focus to all things meat..burgers made to order. To add to the experience, South Street Burger will also be serving craft beer and wines at a select number of restaurants – Lansdowne Park being one of them!
So if we put it all together  we have grilled to order burgers, an abundant array of free condiments (30+), New York style fries, craft beer and  wine. All in an environment that has plenty of big screens TV's to watch your favorite game! In addition to local craft beers on tap, the bar will also serve a selection of beer in bottles and cans. Wine will be available for purchase by the glass or by the bottle.
South St. Burger's menu features:
your choice of: either 4oz and 6oz beef patties made from 100% Angus beef – additive free and raised without the use of hormones or antibiotics.
Grilled chicken breasts
Veggie burgers
100% pure beef hot dogs
Sides include: hand-cut New York Fries french fries, NYF's classic poutine
Hand-scooped milkshakes made from premium ice cream
With over 30 toppings and condiments to choose from: Dijon horseradish, guacamole and mango chutney, customers can personalize their orders at no extra charge.
Premium toppings include a selection of real cheeses, ginger glazed grilled pineapple, Applewood smoked bacon, and sautéed mushrooms.
Gluten free and vegan items are also available".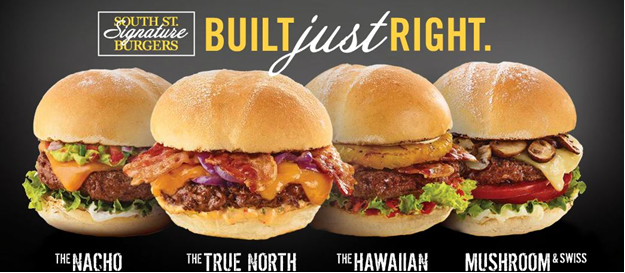 Let your next 'game' experience or strolling Lansdowne Park experience be a South Street Burger at Lansdowne Park experience!
Where: 900 Exhibition Way, located in trendy Lansdowne Park.
Hours: open every day 11:00 a.m. until "closing time."