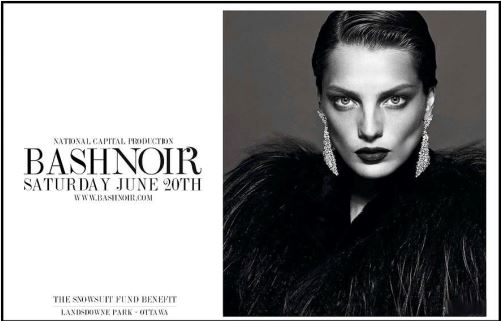 Things are definitely heating up at Lansdowne Park…especially at the Horticulture building this weekend.
Bash Noir in support of the Snowsuit Fund, will be throwing a very chic and very swanky soirée. The sought after VIP tickets for the Neo-Noir and Femme Fatale Film themed evening are quickly selling out.
"THE EVENT IS HOSTED ON BEHALF OF THE OTTAWA SNOWSUIT FUND IN AN EFFORT TO RAISE AWARENESS, AND FUNDS FROM BASH NOIR TICKET PROCEEDS. THIS HAS BEEN A SELL-OUT EVENT EVERY YEAR".
There are three options to attend this upscale 21 + years of age event:
1- REGULAR ADMISSION TICKETS – $75.00
Access to event from 10 PM – Close
Tickets are subject to capacity
2- VIP ADMISSION TICKETS- $100.00
Exclusive access to VIP social hours rom 8-10PM
Passed Appetizers by Ace Mercado **
Exclusive Noir Entertainment
1 Glass of Champagne
1 Mixologist prepared beverage ticket
Gift bags by Rinaldo's Hair Salon (valued at $150)
VIP Tickets are subject to availability
3- FOUR TOP BOTTLE SERVICE- $595.00
Includes 4 VIP Tickets
1 Bottle of Grey Goose or Grey Goose Cherry Noir, (Adorned with Chocolate covered strawberries and cherries)
1 Bottle of sparkling Wine.
Gratuity is included
This package is subject to availability
** Ottawa's very own Femme Fatale will be the driving force behind such a creative and sultry menu, ACE Mercado's Chef de Cuisine Trisha Donaldson.
Here is just a sampling of what is to be expected for food for those with VIP tickets:
Lies and deceit: a play on a cheesecake, turning it into a savory cheese course. Warm on the top and ice cold on the bottom. A beautiful texture change as you bite into the goat cheese with a flavorful raspberry filling coated with pistachios…finished with a lavender mist.
Day of the Dead: in-house made bread with in-house cured duck breast, cucumber ribbons, sabayon, lemon preserve and sweet drop peppers.
Hypnosis: a mystery veiled truffle with a hazelnut ganache.
Chocolate Cigars: tuiles with hazelnut dipped in chocolate ganache with a sweet red pepper ash.
BashNoir Ottawa and enjoy the evening!