Lansdowne Park is now officially Open
Come experience the excitement of the new Lansdowne. Some areas of the park are still under construction, and visitors should use caution.
You are welcome to visit Lansdowne park daily from 8 am to 8 pm. The park will move to regular hours (5 am to 11 pm) when construction finishes in late autumn.
Public washrooms are available in the Aberdeen Pavilion.
The City's Parks, Recreation and Cultural Services (PRCS) department is designing and scheduling a program of activities and events for the year to come. Upcoming programming will include winter programming at Ottawa's third refrigerated skating rink, Winterlude 2015 activities, a range of programs with local community partners and a suite of programs to suit the unique spaces in the Aberdeen Pavilion and the Horticulture Building.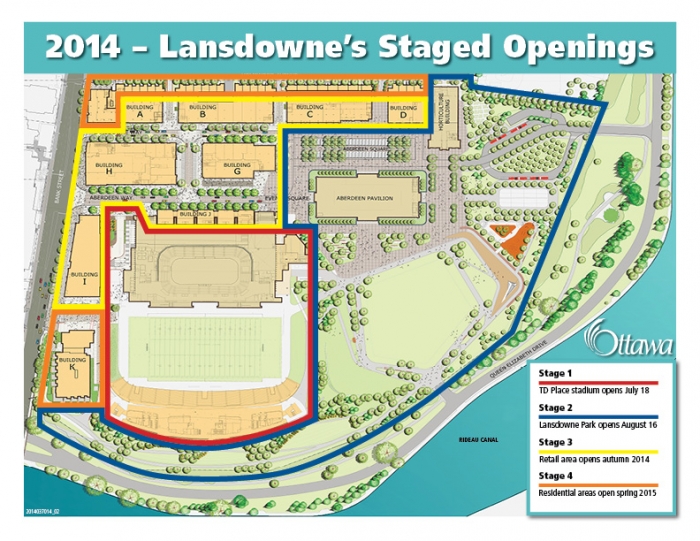 Visitors are welcome to use the park daily from 8 am to 8 pm. Construction will continue into late fall. Pedestrians and cyclists travelling through Lansdowne Park should practice awareness and caution around heavy vehicles and equipment. Your safety is our priority.
Checkout Lansdowne Park Features
Lansdowne November  Construction Update
The contractor has concluded most of the exterior work in the retail area, and is now working on interior fit-ups for retail and office building tenants and fully enclosing the condominium tower near the Bank Street Bridge.
Construction activities in the programming area at the Horticulture Building are expected to be complete this month, while some finishing work on the community kitchen and the interior will still be necessary. Landscaping around the exterior of the building, including along Holmwood will start soon.
This will require the removal of the wooden construction fencing on Holmwood, but new fencing panels will be installed for the remaining landscaping work. Work in the water plaza area, just south of the children's play area, will also continue.
Residents with questions regarding the remaining construction activities can contact the City's construction team at newlansdowne@ottawa.ca until December 1 and at parc.Lansdowne.park@ottawa.ca after December 1, 2014.